BRASELTON, GA, Friday, October 19, 2012: It was an all-out battle for the last pole position of the 2012 American Le Mans Series (ALMS) season, and CORE autosport's Colin Braun, driving the #05 Composite Resources ORECA FLM09, missed it by a mere 0.046 seconds.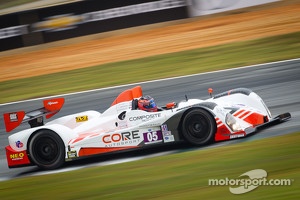 #05 CORE Autosport Oreca FLM09: Jonathan Bennett, Colin Braun, Ricardo Gonzalez
Braun, along with teammates, team owner / founder Jon Bennett and former CORE autosport champion Ricardo Gonzalez, will be starting the #05 machine second in the ALMS Prototype Challenge (PC) class for tomorrow's 10-hour / 1000-mile Petit Le Mans powered by Mazda (14th overall when factoring in the faster P1 and P2 classes). Braun set a fast time of 1:14.145 (123.326 mph) around the 12-turn, 2.54-mile Road Atlanta circuit, and was on his way to setting an even faster lap had a red flag not prematurely interrupted the 15-minute session.
Ryan Dalziel, co-driver of sister #06 Soloson Import machine, placed the car in the fourth spot (16th overall) with a best time of 1:14.433 (122.849 mph). 2012 FIA WEC P2 champion Dalziel is partnered with Mark Wilkins and lead driver of the #06, 2012 ALMS PC driver champion Alex Popow.
Of note, the top five contenders in the highly competitive PC class were within 0.462 seconds of each other, and the first starting spot could've gone to any of those teams had the session gone green the entire time.
Now the entire CORE autosport crew is re-focusing on tomorrow's event, one of the premier endurance races in the U.S. and one of the few that the 2011 and 2012 ALMS PC team championship-winning organization has not won. So far this season, the Rock Hill, SC-based team has chalked up seven victories in nine races, as well as 16 podium finishes between the two cars.
Both 2012 ALMS PC championships – driver and team – have already been clinched by CORE autosport, so the only goal is to claim the win.
The team is racing not only for victory, but "Racing for Ralph" in honor of Ralph Brown, CORE autosport's original crew member, who is recovering in the hospital from a brain aneurism suffered on September 22nd. Both CORE autosport cars feature special "Racing for Ralph" decals on their bodywork and the team plans on bringing trophies to his hospital room next week.
Source: CORE autosport