Audi R8 serves as Official Pace Car of the Rolex Series opener
DAYTONA BEACH – A year after returning to Daytona International Speedway and the Rolex 24 At Daytona, Audi will be at the front of the field as the official pace car of the 2013 GRAND-AM Rolex Sports Car Series opener. An Audi R8 will lead the front of the grid for the twice-around-the-clock race on Jan. 26-27.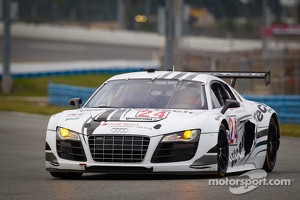 #24 Audi Sport Customer Racing/AJR Audi R8 Grand-Am: Filipe Albuquerque, Oliver Jarvis, Edoardo Mortara, Dion von Moltke
Audi is starting its second season as an official automotive partner of the Rolex Series. Four of its R8 GRAND-AM race cars will compete as part of an incredibly deep GT class during the 51st running of the historic Florida endurance classic. A number of factory drivers and Audi Sport engineers and crew make up the backbone of Audi's efforts at the race.
"Audi's involvement in GRAND-AM continues to evolve and expand," said GRAND-AM President and CEO Ed Bennett. "And that's indicative of what's happening overall in North American sports car racing, with the ongoing merger of GRAND-AM Road Racing and the American Le Mans Series presented by Tequila Patrón.
"Audi is a premium brand, legendary both on and off the race track," he added. "Having an Audi R8 pace the Rolex 24 field – which will include a stellar contingent of R8s – will be a proud moment in the history of the event."
The Audi R8 pace car is powered by a 5.2 liter naturally aspirated V10 engine that generates 525 horsepower which is certainly capable of leading the field as the pace car for the race. The combination of its mid-engine design and lightweight Audi space frame makes it an excellent performance car for the track and the road.
"We are excited to have a larger presence at Daytona through the R8 pace car as well as through our R8 customer racing teams," said Scott Keogh, President, Audi of America. "The R8 has enjoyed great success on race tracks around the world and we hope to bring some of that success to Daytona. The R8 represents the pinnacle of performance to our brand and we look forward to our continued partnership with GRAND-AM."
In addition to its competition component, Audi will be a major player through the weekend in other areas of activation. That includes corporate hospitality for guests and a car corral for Audi owners.
T
Grand-Am Road Racing