Fair and square! Pole position - 7th of the year-, victory - 4th of 2013 - and best lap for Kevin Magnussen! The dazzling performance of the Dane and his DAMS machinery on the Circuit of Catalunya brought two new titles to the impressive collection of the French team. Back in World Series by Renault since last year, DAMS clinches its first awards in the series and that also came with the help of Kevin's teammate Norman Nato, quite unfortunate today in Barcelona.
After setting the pace in free practice on Friday, Kevin Magnussen showed once again who was the boss. Right behind him, Norman also put on some very promising lap times. On Saturday morning, qualifying brought once more the evidence of speed and masterful performance from Kevin who grabbed the pole position late on. After a nice second position with his first set of new tyres, unfortunately Norman couldn't improve then and ended 9th on the grid.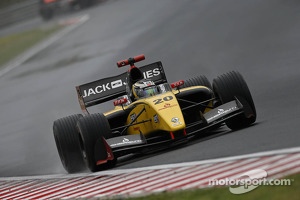 Kevin Magnussen
On Saturday afternoon, under glorious sunshine, Kevin had a very solid start and denied 2nd placed on the grid Will Stevens at first corner. His momentum was just cut however quite immediately as the safety car went out following a massive crash at second corner which saw Marco Sorensen's Lotus flip in the air. Norman could escape that terrible confusion first, but he was then hit from behind and the rear end of the car was just destroyed which meant his race was already over. At the restart, Kevin Magnussen immediately set a quick lap creating a gap of more than a second on Stevens. Both of them were in a league of their own for the whole race and despite intense pressure, Kevin never let any overtaking opportunity to his rival. He finally got the chequered flag as the winner and new Formula Renault 3.5 champion. The last race of 2013 championship will start tomorrow Sunday at 1.15 PM and no doubt that the 2013 champions want to end the season on a high.
Jean-Paul Driot, CEO: « There was no better way to clinch the Formula Renault 3.5 Championship than winning the race today in Barcelona! The well deserved title for the high class driver that Kevin Magnussen is just completed the Teams Championship win. We showed our skills last year and they are confirmed by the two crowns that we get today which also honour DAMS 25th anniversary in motorsport next month. »
Kevin Magnussen: « Wow! It was tough but now it's done! First I want to send a huge thank you to the whole team as they gave me a fantastic car all year long. Both Championships wins come as a great reward and that's just fair. Today I felt a bit stressed during the race. Although I had a good start I always had to keep an eye on Stevens. I made a few small mistakes due to the intense pressure and I couldn't really pull away. However we finally won the race and the Championships. That is a great day for us! »
Norman Nato: « First I want to say bravo to Kevin and the team. They did the best job and I feel sincerely happy for them. From my perspective, it's just a shame that the race ended so abruptly. There was a huge mess at the second corner right ahead of me. I slowed down a bit to avoid being caught in but then the anti stall system switched on and I lost the momentum. I was harshly hit from behind then and the race was over for me. It's a true pity as I felt well after some good lap times in practice and in qualifying as well. I definitely want to end the season on a high tomorrow. »
Dams