Nevers (France) - There were mixed conditions once again today at the Magny-Cours circuit in France where team SBK Ducati Alstare is taking part in the thirteenth round of the World Superbikes this weekend.
In this afternoon's Superpole, and on a wet track that dried out towards the end of the session, Ayrton Badovini qualified sixth while Michele Pirro, suffering a crash in the final stages, will start from tenth position in tomorrow's races.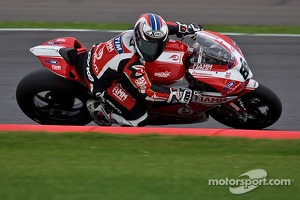 Ayrton Badovini
The morning's second qualifying session took place on a wet track (16 degrees C air temperature, 16 degrees C track), giving riders the chance to test wet settings in case conditions are the same during tomorrow's races.
The track conditions meant that riders were unable to improve on times set in yesterday afternoon's dry qualifying session, meaning that although Ayrton and Michele finished this session in fourth (1'55.9) and fifth place (1'56.1), they qualified in tenth (Michele) and thirteenth (Ayrton) place respectively for the afternoon's Superpole.
In the final practice session, the times of all riders continued to drop, especially in the final stages. Badovini, at ease on the completely wet track, improved by half a second on this morning's time. Pirro too was lapping well until a small crash at the second turn slowed him down; fortunately he suffered no injury in the fall.
Superpole 1: at the start of the first Superpole the track was very wet but it gradually started to dry throughout the session, meaning that lap times fell particularly in the latter stages. There were continuous changes at the top of the timesheets and Badovini, improving on his times lap after lap, was able to score the fourth fastest time at the session's end (1'46.4), securing a place in phase two without difficulty.
Pirro was also making constant progress but unfortunately, just two minutes from the end, he suffered a highside at turn 12 while making a fast lap and this prevented him from advancing to phase two. Although suffering contusions to both his back and right elbow, his injuries are fortunately not serious and should not condition his performance in tomorrow's races. He will line up in tenth position on the race grid, having recorded a best of 1'47.8.
Superpole 2: the track continued to dry rapidly and was almost completely dry by the end of the session, with times dropping dramatically as a result. In the final stages, Ayrton went out with a qualifying tyre, as did most of the other riders, and stopped the clock at 1'40.2 to secure final sixth position.
Ayrton Badovini: "It was a difficult Superpole. In the first phase the track was very wet and so that complicated the session. Then in the second phase the track had almost dried out but we were unable to find the right feeling in the short time available. It was our first opportunity to test the changes that we had made in dry conditions. Our grid position is not bad but, not having had the benefit of any dry practice sessions, it's hard to say how tomorrow's races will play out."
Michele Pirro: "I'm really sorry about the crash, because we could have done well in today's Superpole. I have hurt my back, my elbow too, but luckily it isn't anything serious, just bruising really. The track was drying rapidly and I think I slipped on a small wet patch. It won't be easy tomorrow from the fourth row but I'll be giving it my all. The conditions will also play a part I imagine but I hope to be able to make a good start and score a good result."
Ducati Alstare