Monte Carlo shakedown saw former Citroen driver Thierry Neuville set the pace in his new ride with the Qatar World Rally Ford team. Sebastien Loeb, who is running a partial schedule this year, was second fastest.
16/01/2013 01:25
Trending content
What's hot now
On fire!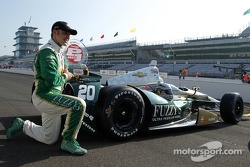 Burning!
Hot!
f1
Short news - 05/21/2013 Vettel urges F1 to rethink tyre 'recipe'
indycar
Commentary - 05/22/2013 Indianapolis 500: No such thing as an "Off Day"