The first qualifying of the 2013 FIA World Endurance Championship was underway today at Silverstone Circuit. Lotus Praga LMP2 showed a good performance and qualified both cars in fifth position and sixth in LMP2 class for cars #32 and #31 respectively.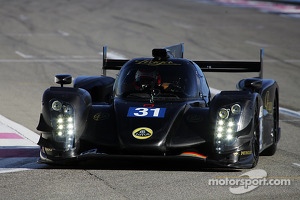 #32 Lotus T138: Kevin Weeda, Dominik Kraihamer, Jan Charouz, Thomas Holzer
It was the debut for the new qualifying format, where two drivers of each car have to do at least two timed laps. The average of the four lap times serves as the reference time for the grid.
There was a long wait for the official qualifying result because of problems with the timing system.
In the end, it was confirmed that cars #32 and #31 will start from fifth and sixth position respectively. It is a good result for Lotus at the first qualifying of the season with the new Lotus Praga T128 LMP2.
The 6 Hours of Silverstone will start on Sunday, 14th April at 12:00 hours local time.
Vitantonio Liuzzi, Race Driver #31: "We had a good qualifying under difficult weather conditions. We started on slicks with Christophe Bouchut and changed for intermediate tyres because the track was very wet and slippery. For my stint, we changed back to slicks as the track dried up again.
Starting from sixth position into the race with the new car is very good and we are quite pleased about this result. We keep on working hard to improve the car and we hope to have a good race tomorrow."
Jan Charouz, Race Driver #32: "It was a crazy qualifying session today with rain just in the beginning of the session. My team mate Dominik Kraihamer was doing his laps at first and I was out afterwards when the track dried up again. We are fifth in LMP2 class which is a good result for us and we are very pleased about it.
The car was better compared to the morning session and it was a step in the right direction. Now we are getting ready for tomorrow's race and I am looking forward to racing the Lotus Praga T128 for the first time."
Lotus LMP2