Ingolstadt - Five more weeks until the Le Mans 24 Hours celebrates its 90th anniversary. Over the period of 14 years, Audi has won this classic race eleven times and in doing so has consistently been delivering top performances in aerodynamics as well. They are a major reason for excellent lap times being achieved again and again despite the reductions of engine output due to the ...
It was a fine race for GT cars and the perfect dress rehearsal for the next round of the 2013 FIA World Endurance Championship and the biggest sportscar race in the world – the 24 Hours of Le Mans.
04/05/2013 10:07
Live race coverage from Spa-Francorchamps.
04/05/2013 12:51
There will be a 20 minute warm up session at 09:00 tomorrow morning with the WEC 6 Hours of Spa-Francorchamps getting underway at 14:30.
03/05/2013 09:27
The Aston Martin Vantage achieved an average of 2:21.265, just three hundredths of a second ahead of the 8Star Motorsports Ferrari 458 Italia of Matteo Malucelli and Rui Aguas.
03/05/2013 09:14
The surprise of the session was the No.12 Rebellion Racing Lola-Toyota of Neel Jani, Nick Heidfeld and Nicolas Prost which was 4th fastest, 1.029s behind the lead Audi but ahead of both works Toyotas.
03/05/2013 05:19
The qualifying sessions to determine the grid at seven of the eight rounds. The 24 Hours of Le Mans continue with its traditional qualifying system.
03/05/2013 10:43
The two-time Daytona 500 winner and Advisory board member of Motorsport.com, Michael Waltrip celebrates his 50th birthday today, April 30th 2013.
30/04/2013 11:49
On fire!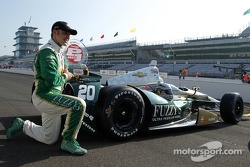 Burning!
Hot!
f1
Short news - 05/17/2013 Teams can't afford 2014 V6 engines - report
endurance
Race reports - 05/19/2013 Strong start to Aston Martin's Nürburgrin​g 24 Hours charge