Among the attendees were Bianchi, Chilton, Rossi, Kovalainen, Valsecchi, Gene, Button, Hamilton, Buemi, Rosberg and Perez.
17/07/2013 02:37
Trending content
What's hot now
Top!
f1
Commentary - 12/09/2013 Alonso attitude triggered Raikkonen signing - Andretti
Most!
formula-e
Breaking news - 12/09/2013 Leonardo Dicaprio and Venturi Automobiles to launch Formula E electric race car team
Trending!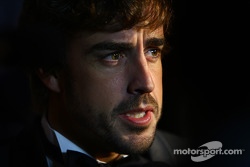 f1
Short news - 12/09/2013 Vettel factor weighed in Webber's quit decision