Fans at Daytona International Speedway – along with those following all of the televised action – knew they were watching history in the making at the 52nd running of the Rolex 24 At Daytona.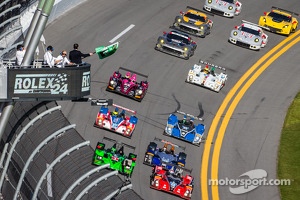 Start: ACO President Pierre Fillon gives the green flag
The debut of the TUDOR United SportsCar Championship had the feel of a big-time sporting event, with many festive activities surrounding the terrific on-track action.
With a Rolex 24 record crowd in attendance, fans packed the pre-race Fan Walk where they were able to get up close and personal with the cars and drivers minutes before the green flag waived.
Capping the evening's festivities was the largest fireworks display this side of the Fourth of July, lighting up the skies that already had the sights of brightly carnival rides, including the tallest Ferris wheel on the East Coast, while cars raced through the night.
And raced they did, all the way to the finish on Sunday at 2:12 p.m. when Joao Barbosa beat Max Angelelli to the checkered flag by a mere 1.461 seconds – the second-closest finish in Rolex 24 history.
"I've been doing the Rolex 24 since 1994, and this one is certainly at the top of all of them," said owner Wayne Taylor, who co-drove with Angelelli in the second-place car. "It was a huge event for the fans, and there was a lot going on all week. It was big from a global standpoint. There was a lot of participation from the manufacturers. I can't say about the early days, but this was the biggest Rolex 24 from my standpoint."
Another owner impressed with the event was Kevin Buckler, who was the winning owner-driver in the 2003 Rolex 24.
"The feeling in the air all week long was electric," Buckler said.
Three of the four divisions in the Tudor Championship went right down to the final lap. Both GT Le Mans and GT Daytona had margins of victory of under three seconds, while only one lap separated the top finishes in Prototype Challenge. Fans watching the action from any vantage point had no problem figuring out who was leading, thanks to the debut of a unique color-coded number panel that carried each car's class position at all times during the race.
The world was taking notice of the action. Every seat was reserved in the giant Daytona media center, with 438 individuals from 234 outlets on assignment to cover the race. That coverage included 60 international correspondents from 15 countries.
The race entry included a record number of internationals drivers, with 156 competitors representing 27 countries. For contrast, last year's Rolex 24 attracted 69 international drivers from 16 countries.
Every great performance calls for an encore. The TUDOR Championship will continue with the Mobil One 12 Hours of Sebring Fueled by Fresh From Florida on Saturday, March 15 – adding to the legacy of that event in its 62nd running.
IMSA