LOS ANGELES—After nearly four decades of leadership in the sport he loves so much and nurtured as a parent would a child, iconic race producer Sal Fish announced today that he has sold his SCORE International desert racing organization that includes the SCORE Desert Racing Series to Roger Norman effective immediately. Fish, the CEO/President of Los Angeles-based SCORE International ...
Robb Pritchard, Off-road correspondent
22/11/2011 01:39
Robb Pritchard, Off-road correspondent
18/11/2011 04:00
Las Vegas (April 6) - Honda rider Johnny Campbell was injured while competing at the Terrible Town's 250. Campbell crashed early in the race and was airlifted to the Las Vegas Medical Center where he underwent tests for possible fracture of two...
09/04/2002 03:20
Top!
Most!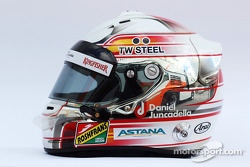 Trending!
f1
Breaking news - 03/07/2014 Schumacher no longer on respirator - report