Maranello, 11 November –Today at the Fiorano track, the first group of cars that will take part in the Florida Winter series, had their shakedown. The championship, which is supported by the Ferrari Driver Academy, is aimed at professional drivers who want to prepare on track for the 2014 season. Eight of the Tatuus FA10B chosen for this championship, each with a distinctive base ...
On the final lap at the Brands Hatch Grand Prix circuit, Pietro Fittipaldi took his first victory in the BRDC F4 Series.
27/07/2013 08:53

Backed by the world's richest man, grandson of Emerson will trade a promising career in the U.S. at age 16 to compete in single-seaters.
03/04/2013 08:53
Lynne Waite and Stella-Maria Thomas, F3 Correspondents
06/11/2011 11:27
At Silverstone this afternoon, 16-year old American Connor de Phillippi (Team USA Scholarship) completed an impressive weekend by winning the 2009 Walter Hayes Trophy despite coming under tremendous pressure from Robert Barrable and Felix Fisher,...
04/11/2009 06:56
It has now been ten years since open-wheel racing lost one of its fan-friendliest, most articulate, brightest, fastest, and incredibly well-respected drivers. But with that said, the memories that Greg Moore left the world of motorsport live on to...
04/11/2009 03:57
16-year old Conor Daly from the USA won the 8th running of the Walter Hayes Trophy at Silverstone today, but not before team-mate Josef Newgarden took himself out of the lead. The victory was achieved after a tense final race which saw Daly battle...
05/11/2008 04:42
Top!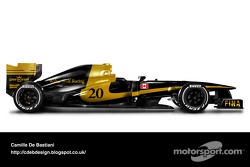 Most!
f1
Short news - 12/20/2013 Pic admits 2014 Caterham seat not secure
Trending!

f1
Short news - 12/20/2013 'Hilarious' 2014 pre-season already begun
lemans
Breaking news - 12/20/2013 Le Mans 24 Hours: twelve teams invited