MOORESVILLE, N.C. (November 5, 2013) - Joey Coulter, driver of the No. 18 GunBroker.com Toyota Tundra heads to the desert - commonly known as Phoenix International Raceway (PIR) - for Friday night's Lucas Oil 150 NASCAR Camping World Truck Series (NCWTS) event with guns blazing. Not only is the 23-year-old driver coming off his track-best finish of third at the Avondale facility, Kyle Busch Motorsports (KBM) has been victorious in the last two events at the 1-mile tri-oval with Brian Scott (2012) and owner-driver, Kyle Busch (2011).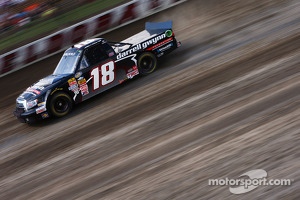 Joey Coulter
With nothing to lose and only two races to go in the season, Coulter is more determined than ever to get his No. 18 Toyota Tundra team to victory lane and make it three in a row for KBM.
Joey Coulter, Driver of the No. 18 GunBroker.com Toyota Tundra: In two starts at PIR, you have two solid finishes - including a track-best third in your last start at the 1-mile oval. Is Phoenix a track you enjoy racing at? "Phoenix is neat. It's one of those tracks that's just different and I seem to adapt well to those types of tracks. The track surface at PIR is always a little tricky - it's dusty and sandy out there, so it's hard to keep the track cleaned off and get the rubber laid down - so grip is always something we are searching for out there. With the progressive banking down the backstretch from the exit of Turn 2 into Turn 3 and the dogleg, it will make for a fun race and a great show for the fans. The desert was good to us last year and KBM also had a really good weekend there too, so I'm optimistic. We have two races to go and it's kind of all or nothing for us right now."
This is the season for hunting, do you own a gun and do you embrace this time of the year? "I'm really excited to have GunBroker.com back on the truck this weekend at Phoenix - they are actually on the truck the next two races at Phoenix and Homestead. I've got a really sweet 300 Ultra Mag that I got from Richard Childress and I've actually been on GunBroker.com recently looking into some shot guns. I haven't been hunting yet this season, but I do more target and skeet shooting than anything."
Harold Holly, Crew chief of the No. 18 GunBroker.com Toyota Tundra: This is the second start for the Truck Series on the new track configuration. Do you expect to see any changes in the track since last year? "The biggest difference between this year and last is the new left-side tire that Goodyear is bringing us. It will cause us to have more grip which ultimately means faster speeds. The new surface took a while to rubber-up last year so it was hard to find grip and we had a demolition derby and a lot of carnage after 150-laps. I believe this new tire is going to be better across the board for everyone."
Joey Coulter's No. 18 GunBroker.com Toyota Tundra: Chassis KBM08: Coulter will pilot chassis KBM08 for the fourth time this season in Friday night's Lucas Oil 150 at Phoenix International Raceway. This Toyota Tundra went to victory lane in its debut in the 2011 N.C. Education Lottery 200 with Kyle Busch behind the wheel at Charlotte (N.C.) Motor Speedway. In 10 career starts, KBM08 has led 42 laps en route to three top-five and four top-10 finishes and has an average start of 10.1 and an average finish of 15.6.
KBM