Ricky Stenhouse Jr. became the only NASCAR Nationwide driver to earn the championship under the new "declare a series rule" and he did it twice! We felt that he definitely deserved a spot in our top 20 moments.
27/12/2012 12:01
Trending content
What's hot now
Top!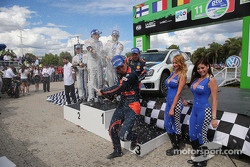 Most!

f1
Short news - 03/10/2014 Every car may retire in Melbourne - supplier
Trending!
f1
Short news - 03/10/2014 Melbourne-spec car different on inside - Vettel
nascar-cup
videos - 1394485000
Daytona 500 Reaction My Whole Family Going Crazy!!