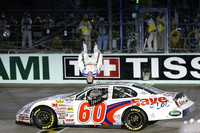 Carl Edwards did everything he needed to do to win his second straight Nationwide Series championship. Unfortunately for him, it wasn't enough. Race winner Carl Edwards celebrates. Photo by Action Sports Photography. Edwards led 66...
16/11/2008 12:11
Kyle Busch won his sixth Nationwide Series race of the year after leading 197 of the 200 laps around the 0.686-mile oval at O'Reilly Raceway Park. It was his 17th Nationwide Series victory. Busch crossed the finish line 1.111 seconds ahead of...
28/07/2008 11:57
Trending content
What's hot now
Top!
f1
Analysis - 12/10/2013 Controversy explodes with new 'double points' finale
Most!

f1
Breaking news - 12/10/2013 Hamilton did pay father, former manager Anthony
Trending!
f1
Breaking news - 12/10/2013 FIA announces Formula One 'cost cap' coming in 2015