The Richard Petty Motorsport driver suffered a fracture and dislocation of his sternum in a crash in the NASCAR Nationwide race at Daytona.
27/02/2013 01:29
Joie Chitwood, Daytona International Speedway president and Steve O'Donnell NASCAR's senior vice president of racing operations provided the update on injuries.
24/02/2013 07:44
Trending content
What's hot now
Top!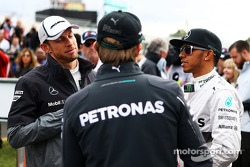 Most!

f1
Breaking news - 03/16/2014 Ricciardo podium in doubt over fuel flow breach
Trending!
f1
Short news - 03/16/2014 Mercedes breached fuel flow rules in Melbourne - report
f1
Rumors - 03/16/2014 'Monster' Mercedes producing 900hp - report
lemans
Obituaries - 03/16/2014 Luca Moro dies in hospital