HUNTERSVILLE, N.C. - Travis Kvapil and the No. 93 Burger King / Dr. Pepper Toyota Camry team finished 38th on Sunday afternoon at New Hampshire Motor Speedway after getting caught in a multi-car accident late in the race. Kvapil had fresh tires and enough fuel to get him to the checkered flag, but the turn one accident on lap 237 sent Kvapil to the garage and forced him to retire from the event early.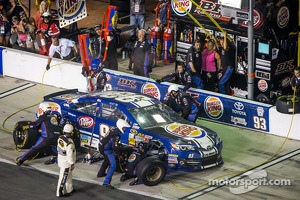 Pit stop for Travis Kvapil, BK Racing Toyota
After starting the race in the race in the 31st position, Kvapil immediately began picking up positions. Despite his car being a little tight, Kvapil was able to race up to the 17th position by lap 75 before a round of green flag pit stops left him one lap down to the leaders.
The Burger King / Dr. Pepper Toyota team made adjustments to improve their Camry, and later rolled the dice on pit strategy by staying on track while the leaders pitted.
The strategy put Kvapil in position to earn the lucky dog award on the subsequent caution, as long as he maintained his position on the track. Despite 20 lap old tires, the NASCAR Sprint Cup Series regular was able to hold his position on the track and earned the lucky dog award to return to the lead lap of competition.
A later caution allowed the No. 93 Burger King / Dr. Pepper Toyota team to get fresh tires and enough fuel to make it to the finish line. The strategy was playing out exactly as the BK Racing team had hoped with Kvapil picking up positions and moving toward the top 20. However, on lap 237, Kvapil was racing side-by-side for the 22nd position when he was involved in a three-car incident entering turn one.
A competitor behind Kvapil made contact with the rear end of the No. 93 machine, which in turn pushed Kvapil into the car on his outside and ultimately into the outside retaining wall. With damage sustained to every corner of the No. 93 Burger King / Dr. Pepper Toyota Camry machine, Kvapil was forced to the garage to retire from the Camping World RV Sales 301.
"We had a really strong No. 93 Burger King / Dr. Pepper Toyota Camry today," commented Kvapil. "I think we would have been able to get a top-20 finish, so I'm frustrated with how our race ended. My BK Racing team continues to make improvements, and we've had a couple really good weeks working with Dale Ferguson as our crew chief. I'm excited to get to Indianapolis Motor Speedway in a couple weeks."
BK Racing