Best Result Of Season For Capirex In Barcelona. De Puniet Out On Third Lap
Following a battle for ninth place that lasted almost the entire race, Loris Capirossi managed to take the position from young Karel Abraham in the final corner. The Italian's experience and desire for redemption help the Pramac Racing Team look forward to the future with optimism. It was Capirossi's best race of the season so far, and not just because of the result, which earned him seven points and advanced him to 16th place in the overall standings.
Meanwhile, Randy De Puniet's misfortune continued. The Frenchman, who had problems with his bike's setup throughout the entire race weekend, was knocked down by Hiroshi Aoyama on the third lap. After visiting the mobile clinic, Randy returned to his garage with a bandage on his right ankle, which might have ligament damage. An MRI in Barcelona on Wednesday should provide more definitive information. Meanwhile, the Pramac Racing Team moves on to Silverstone for the sixth round of the world championship.
Fabiano Sterlacchini - Pramac Racing Team Technical Director
"Today's race was pretty positive. Of course it was nothing exceptional, but Loris' result gives us hope for the future. We were coming through quite a negative period, as good luck seemed to have forgotten us: many crashes, some sub-par performance—we were a little demoralized. Today we brainstormed some good basics: just to have found a good setting for Loris and the bike is a good start. We have faith for the next round, at Silverstone. We know where to start, and we'll focus our work to further improve the bike's setup."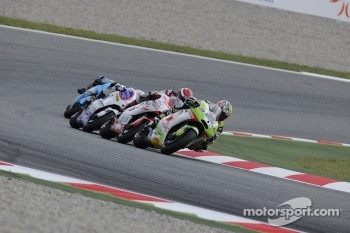 Loris Capirossi, Pramac Racing Team leads
Loris Capirossi - Pramac Racing Team - 9th in race - 15th in MotoGP standings 

"Today's result was definitely good. I fought hard, and I don't even know how many passes I made in the race. It's actually hard to find a negative; even the start was quite good. I want to consider Barcelona a starting point for a new direction. Now we shouldn't get lost with bad choices, and we'll work like we did over this weekend. I would like to thank my team for helping me today, because our result is due to their efficiency."
Randy De Puniet - Pramac Racing Team - DNF - 16th in MotoGP standings
"I'm not at all happy with how things went, as I'm going through a difficult period. At Le Mans, I was out after just one lap, and things weren't much different today. I don't know what happened with Aoyama; I saw him coming into me while I was exiting the first corner. It's really a shame because I was very motivated. I had a good feeling with the bike in the early kilometers, and I thought I could do well. I hope that I haven't hurt my ankle. It makes a strange noise when I walk, so I hope the ligaments aren't broken."
-source: pramac racing