Autodromo Enzo e Dino Ferrari
Zytek's Le Mans Winner Races At Imola
Greaves Motorsport seeks third victory of the year with its Zytek-Nissan
The Le Mans class winning Zytek-Nissan of Greaves Motorsport will be seeking its third victory of the year at Imola, Italy this weekend. Driven again by the victorious trio of Karim Ojjeh, Tom Kimber-Smith and Olivier Lombard, the Zytek Z11SN will be just one of four cars in the LMP2 category to use to Zytek Engineering developed and serviced Nissan VK45DE engines that dominated the class at Le Mans.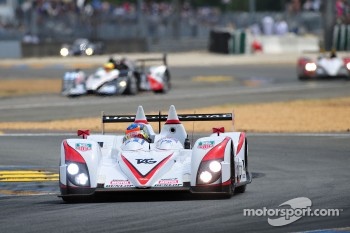 #41 Greaves Motorsport Zytek Nissan: Karim Ojjeh, Tom Kimber-Smith, Olivier Lombard
Zytek will also be represented in the LMP1 class by the Zytek 09SC of MIK Corse, which will be powered by Zytek's own V8, 3.4-litre ZG348 engine. Drivers of the car will be local trio of Maximo Cortes, Fernandino Geri and Giacomo Piccini.
The MIK Corse Zytek has recently completed two very successful days development testing at Vallelunga using Zytek's innovative ZPH KERS hybrid system. However, technical issues with the car's crash test still need to be resolved and, therefore, it will race in conventional form this weekend. It is planned that the car will make its debut in hybrid form at the Six Hours of Silverstone in September. (Zytek made history in 2009 when one of its cars became the first Le Mans prototype hybrid to score a podium place.)
Zytek Senior engineer Pete May explained, "The KERS is operating extremely well, and is already proving itself capable of offering a significant competitive advantage, both dynamically and in terms of economy. Our target was always to complete multiple race mileages with the system in the vehicle before signing it off as ready to race. We are very confident of the system's capability and reliability, but the safety aspects relating to this new technology mean we must respect our test programme, before committing to race."
Backing up the two Zyteks will be three LMP2 Oreca 03s powered by 4.5-litre Nissan/Zytek engines. As at Le Mans, where it came second in the LMP2 class to the Greaves Motorsport Zytek, Signatech's car will be driven by Frank Mailleux, Lucas Ordonez and Soheil Ayari. The Boutsen Energy Racing Oreca will have Dominik Kraihamer, and Nicholas de Crem at the wheel while Matthias Beche, Pierre Thiriet and Jody Firth will pilot the 1000km of Spa winning TDS Racing version.
The Six Hours of Imola is the fourth round for the Intercontinental Le Mans Cup and the third for the Europe-based Le Mans Series. Featuring many of the cars from the recent Le Mans 24-hours, it commences at 1200 on Sunday, July 3.
by: zytek