2012 Firestone Indy Lights champion Tristan Vautier kept a secret during the recent Rolex 24 Hours event in Daytona, FL. The Frenchman moved up to IndyCar for the 2013 season.
29/01/2013 09:22
Jack Hawksworth was the fastest of the Indy Lights racers. INDYCAR adds point-of-reference "courtesy zones" to the outside edges of each pit box
30/08/2013 09:09
Trending content
What's hot now
Top!
Most!

f1
Analysis - 03/14/2014 Signs of strain between Mercedes duo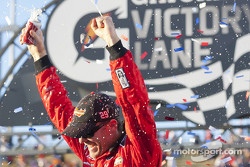 Trending!
f1
Short news - 03/14/2014 Bottas prefers Massa over ex-teammate Maldonado