IndyCar driver Justin Wilson first raced with Michael Shank Racing back in 2006. The Englishman will aid the team in the final four Rolex Grand-Am races of 2013: Road America, Kansas Speedway, Laguna Seca, and Lime Rock.
23/07/2013 05:12
Team owner Michael Shank stood by his long-time friend AJ Allmendinger during his time of admission regarding the failed drug test, and encouraged the race car driver to complete the NASCAR Road to Recovery program.
26/01/2013 09:24
As they have in past Rolex 24 hours contest, Chip Ganassi's two champions are ready for the race in Daytona. Scott Dixon and Dario Franchitti shared their thoughts on the 2013 IndyCar season.
26/01/2013 03:34
Trending content
What's hot now
Top!
f1
Commentary - 12/09/2013 Alonso attitude triggered Raikkonen signing - Andretti
Most!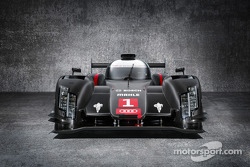 f1
Short news - 12/09/2013 Vettel factor weighed in Webber's quit decision
Trending!
f1
Analysis - 12/09/2013 Drivers to play bigger role in 2014 - Alonso
f1
Breaking news - 12/09/2013 Todt backs move for permanent race numbers in Formula One