The 2014 Rolex 24 At Daytona will feature the debut of the Porsche 911 GT America, the latest edition in a legacy dating back to 1973 when Hurley Haywood and Peter Gregg drove a Porsche 911 RSR to victory in the Rolex 24 At Daytona and Mobil 1 Twelve Hours of Sebring Fueled by Fresh From Florida. The Daytona victory was the first international triumph for a 911-based Porsche – ...
Today marks the 25th anniversary of Enzo Ferrari's death...here are some of his biggest accomplishments on pavement.
14/08/2013 05:41
Dyson Racing: Celebrating thirty years in professional sports car racing
05/07/2013 04:08
Nico Rosberg and Lewis Hamilton drive two historic Silver Arrows on the Nürburgring Nordschleife
04/07/2013 07:05
The last NASCAR race on Daytona Beach sand took place in 1958. Each year old-timers like Glen Wood, Marvin Panch, Ray Park, Vicki Wood and Russ Truelove gather for another lap around the old course.
20/02/2013 12:02

An "ash - Through The Esses" feature remembering 'Captain Nice'. In the modern era of sportscar racing, Matt Bell invokes the memory of Mark Donohue's spirit.
13/02/2013 03:23
The short film forms part one of the 50th anniversary trilogy following the ghost of Bruce McLaren as he retraces the scene of his crash at the Goodwood circuit in 1970
04/02/2013 10:33
A. J. Foyt had to forgo his role as the 2012 grand marshal for the Rolex 24 last year, but the former winner at Daytona was present for this year's event. As usual – except for a few topics – Foyt was willing to give his opinion and thoughts.
28/01/2013 05:02
Top!
Most!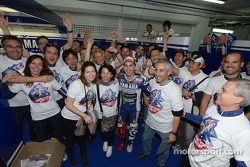 Trending!
f1
Special feature - 12/21/2013 Presentation of the new Ferrari power unit - video