The Hexis Racing team has been European and World Champion, and it is still dreaming of new titles. In 2013, it will take up challenges that it already tried to win in the past, but which are still on its to-do list!
The McLaren MP4-12Cs that scored several victories in 2012 will be entered in the GT Tour's French GT Championship for Olivier Panis, Eric Debard, Laurent Cazenave and Jean-Claude Police.
Hexis Racing MP4-12C
But there are still vast new territories to be conquered on the international scene.
Hexis Racing has earned its status as a top team with its victories in the FIA GT1 World Championship. In 2010, the French squad finished second overall and then won the title in 2011 with the fabulous Aston Martin DBR9s.
This year it again clinched the runner-up spot with the debutant McLaren MP4-12Cs. Every year Hexis drivers have finished in the top three.
In addition, the Lédenon-based outfit has set other noteworthy records including the highest number of victories in 2012 and the greatest overall number of wins in its three world championship campaigns.
However, after a full and successful year Hexis Racing has had to rethink its strategy. The FIA GT1 World Championship, which provided thrilling on-track action thanks to a field of 100% professional drivers, has been canned for the 2013 season.
An FIA GT World Series is supposed to fill the hole, but with a mixture of pro and amateur drivers, which is probably in keeping with the current economic restrictions.
Philippe Dumas, though, reckons it's time to turn the page and set new objectives. Today, the Hexis Racing team manager is officially announcing his team's first programme.
"Above all else I'd like to thank Stéphane Ratel and SRO personally and in the name of our team for our exceptional adventure in the world championship. For me it was a unique, unforgettable experience.
Hexis Racing MP4-12C
In France we already scored class victories with the Porsche in 2006 and Aston Martin in 2007. At the time GT1 was the top category.
We then oriented ourselves towards the FIA GT3 European Championship, mainly because we could aim for outright victory. We've decided to make our comeback to the French GT Championship for several reasons.
The first is that we've never won it! Then it's important to recentre ourselves geographically speaking in relation to our supporters and partners.
We'll be able to invite people, which was a bit difficult in China or Argentina! Finally, the pleasure of coming back to our roots owes a lot to the closely-knit bunch of four drivers, who are also great guys, who have joined the team to take up this new challenge.
The opportunity to welcome Olivier Panis, Eric Debard, Laurent Cazenave and Jean-Claude Police already arose in the past. The fact that we've finally managed to clinch it helped sway the balance. They're a bunch of real friends so the project makes sense."
Let the victor have his say as Olivier Panis is the last French driver to have won an F1 Grand Prix.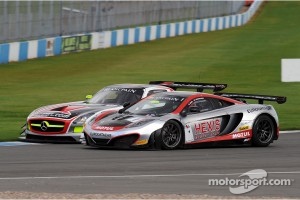 Hexis Racing McLaren MP4-12C GT3
He tells us what he thinks before the coming season: "I'm very happy to join one of the greatest teams in GT racing and to take part in this new challenge with Philippe Dumas as he's a fighter and a winner.
In terms of drivers we've got an ideal line-up. I'm sharing a car with Eric Debard again, and we're backed up by our favourite team-mates, Laurent Cazenave and Jean-Claude Police."
Panis and Debard, the runners-up in the 2012 French GT Championship, will be driving together again for the fifth year on the trot. Police and Cazenave have been racing together almost without a break since 2004, and they will continue to do so with Hexis Racing.
Jean-Claude Police is recovering from a crash that has kept him away from the circuits since July. He will be fighting fit for the first tests and ready to start the season on home turf on the Bugatti circuit in April.
Of the four drivers who will carry the hopes of Hexis Racing in the French Championship, Laurent Cazenave knows his new team manager best.
He runs the racing school, CD Sport, from the team of the same name, which gave Philippe Dumas his Formula Renault debut in the early noughties.
The world champions are back in France and it's not just to make up the numbers. At present, Philippe Dumas is honing the final details of a second project that will have an international impact.
"We'll make another announcement in the very near future for a top-quality programme, which will reinforce our links with McLaren even further."