DAYTONA BEACH, Fla. (March 6, 2006) -- The life of Grand American driver Josh Rehm was tragically cut short on Sunday, March 5, in a highway accident in Ridgeway, Wis. Rehm, 27, was a pioneer in Rolex Series Daytona Prototype competition,...
08/03/2006 06:56
The Rolex 24 at Daytona International Speedway traditionally attracts an eclectic mix of driving talent from a variety of racing disciplines around the globe, yet victory usually goes to sports car veterans. This year, however, a team comprised...
09/02/2006 01:31
Eric Lux and Charles Espenlaub drove the No. 44 Team Sahlen's Porsche 996 to victory Friday in the Grand-Am Cup 200 at Daytona International Speedway. The two drivers led 47 of 57 laps of the season-opening race for the 10-race Grand-Am Cup ...
04/02/2006 05:26
Lucas Luhr smashed the Daytona Prototype track record by more than a second Thursday at the Daytona International Speedway, capturing the pole for the 44th Rolex 24 at Daytona with a lap of 1:44.009 in the No. 23 Alex Job Racing/Emory Motorsports...
04/02/2006 03:24
Trending content
What's hot now
Top!
Most!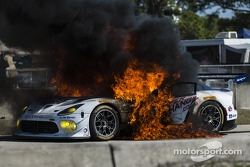 f1
Short news - 03/17/2014 Aussie GP furious with F1's purring engines
Trending!
f1
Short news - 03/17/2014 Family accepts 'long wait' for Schu awakening
indycar
Obituaries - 03/17/2014 Gary Bettenhausen passes away