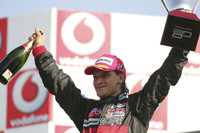 While both title contenders, Nelson A. Piquet and Lewis Hamilton, were keeping an eye on each other to take second and third at the chequered flag, Giorgio Pantano was able to claim the victory in race one of the GP2 Series final round in Monza,...
10/12/2006 04:16
Lewis Hamilton, perhaps the youngest British driver with a chance to compete in Formula One in the near future, will compete in the GP2 Series in 2006 as the second driver of the champion team, ART Grand Prix. Lewis Hamilton. Photo by...
04/02/2006 03:24
As had already been anticipated for some time, McLaren Mercedes today announced that Lewis Hamilton would be joining Fernando Alonso as the second McLaren race driver for the 2007 Formula One world championship challenge. Lewis ...
27/11/2006 08:49
Trending content
What's hot now
Top!
f1
Breaking news - 03/07/2014 Schumacher no longer on respirator - report
Most!
Trending!

f1
Short news - 03/07/2014 Bianchi 'mugged while smoking cigarette' - report