Reflections on Walkinshaw's greatest achievement in Formula One With the passing of Tom Walkinshaw last Tuesday, following a battle with cancer, motor racing will remember him as one of the most prominent figures within the sport over the past...
20/12/2010 04:51
2010 Race of Champions lived up to past events and the stars put on a show in Germany. The annual Race of Champions (ROC) was held in Dusseldorf, Germany this year following up on last year's ROC in Beijing, China held in the famous 'birds nest'...
04/12/2010 02:21
Trending content
What's hot now
Top!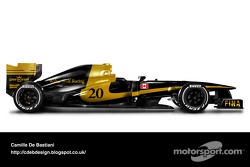 Most!
lemans
Breaking news - 12/20/2013 Le Mans 24 Hours: twelve teams invited
f1
Short news - 12/20/2013 Pic admits 2014 Caterham seat not secure
Trending!

f1
Short news - 12/20/2013 'Hilarious' 2014 pre-season already begun