May 16 (GMM) Monisha Kaltenborn has become a Formula One team owner.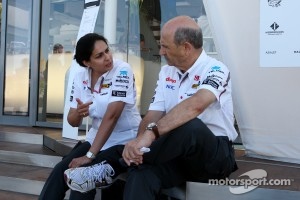 Monisha Kaltenborn, Chief Executive Officer, Sauber F1 Team, Peter Sauber, Sauber F1 Team, Team Principal
Peter Sauber announced on Wednesday that he has given the 41-year-old Indian, who is his Hinwil-based team's chief executive, one third of the Swiss outfit.
Previously, in the wake of former owner BMW's departure, boss Sauber owned 100 per cent of the team he founded in 1993.
Kaltenborn has been a key element in helping the team get back to the sharp end of the grid after BMW left the team in 2009, and team drivers Sergio Perez of Mexico and Japan's Kamui Kobayashi have earned 41 series points this season to put the team in seventh in Formula One's constructor standings.
"For me this step is a mark of the greatest possible trust, which I will do everything in my power to justify." Kaltenborn remarked.
A media statement said Sauber, 68, made the decision "in the interests of continuity". Reports are that Sauber has tabbed Kaltenborn to succeed him in the event of his retirement, although there are no imminent plans for such an event.
"My desire is to ensure that the company continues to be led as I would want over the long term," he commented.