Oct.17 (GMM) Ferrari announced late on Tuesday that Felipe Massa is staying with the team in 2013.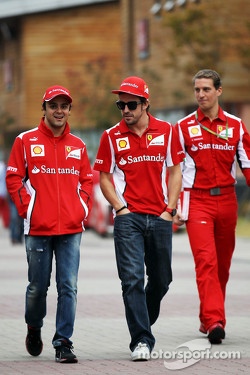 Felipe Massa, Ferrari with team mate Fernando Alonso, Ferrari
Although the one-year contract ties in with rumours Sebastian Vettel could replace him in 2014, the news ends a long period of speculation about the 31-year-old Brazilian's immediate future.
"I want to thank president (Luca di) Montezemolo and Stefano Domenicali, who had faith in me and who have always supported me, even at the most difficult moments," he said.
2013 will be Massa's eighth consecutive season with the famous Maranello based team, having moved from Sauber at the end of 2005 to pair with Michael Schumacher.
Fernando Alonso sounded happy about Tuesday's news.
"I am so happy to continue another year with Felipe Massa as a teammate," the Spaniard wrote on Twitter. "I'm sure we are the best team!"