Recently it appeared that HRT would be saved by a Chinese company in order to secure a Formula One ride for Ma Qinghua in2013. Now he is aiming for the available seat for either Marussia or Caterham.
05/12/2012 05:53
Trending content
What's hot now
Top!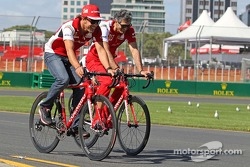 Most!
f1
Short news - 03/13/2014 Nervous teams to sit out Saturday practice
f1
videos - 1394627491
Transforming Formula One: 2014 Rules Explained
Trending!
v8supercars
Qualifying reports - 03/13/2014 Nissans fire at Formula One Rolex Australian Grand Prix
f1
Short news - 03/13/2014 Heidfeld not happy F1 keeps putting on weight
f1
Short news - 03/13/2014 McLaren's Melbourne livery a one-off