Grosjean's victory over sports car ace Tom Kristensen in ROC likely helped propel him to a second season in black and gold.
20/12/2012 04:00
The first time winner of the Champion of Champions title had a three-heat finale in Bangkok's Rajamangala Stadium to earn the 25th ROC crown.
17/12/2012 07:24
Ingram's Flat Spot On Team Tactics Hurt The Sport by Jonathan Ingram Is motor racing a team sport? It's a question that was brought up in three major series over the past weekend -- and a situation still yet to be given a rest as the Formula...
12/11/2010 01:13
Trending content
What's hot now
Top!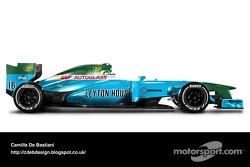 Most!
nascar-cup
Breaking news - 12/20/2013 Former driver Mayfield's home burned
tusc
Short news - 12/20/2013 Successful Private test sessions at Daytona provide valuable information to IMSA officials
Trending!
f1
videos - 1387550982
Presentation of the new Ferrari power unit