Steve Doherty running a test lap of the Monza circuit in the Nissan GT-R Nismo GT3 ahead of the Blancpain Endurance Race. Another exclusive onboard video from nismo.tv!We're uploading two versions of the video - this version has Steve talking us through his lap. Here's the link for the purists - with no noise but the gorgeous engine notes:
http://youtu.be/XFmhGo0TTisAnd
here's the link to fellow GT Academy winner Lucas Ordonez running the same track:
http://youtu.be/oJwCEHhx-L4Crank
the volume to 11 and enjoy.Loving the onboards? Let us know what you think in the comments below!
By:
nismotv2013
Source:
youtube.com
Added:

15/04/2013 12:22
Duration: 02:27
Series: ENDURANCE
Related Videos
Duration:
08:45
Spa 24 Hour Highlights Endurance Series
By:
motorsport_com
Duration:
08:27
Classic track vs Audi R8 LMS - The Red Bull Terramar Race
By:
youtube_com
Duration:
18:37
Schubert Motorsport BMW Z4 GT3 Onboard 2 Runden VLN 4. Lauf 2011 Nürburgring Nordschleife
By:
youtube_com
Duration:
01:47
SLS AMG GT3 "45th ANNIVERSARY"
By:
youtube_com
Duration:
10:51
BMW Z4 GT3 Nürburgring, first lap
By:
youtube_com
Duration:
10:15
HEICO MOTORSPORT Mercedes Benz SLS AMG GT3 Onboard VLN 4. Lauf 2011 Nürburgring Nordschleife
By:
youtube_com
Duration:
01:29
Porsche 911 GT3 Cup: Character refinement
By:
youtube_com
Duration:
02:57
Nissan GT-R Nismo GT3 Onboard at Monza, driven by Lucas Ordonez
By:
youtube_com
Duration:
05:27
MONZA HIGHLIGHTS - Nissan GT-R Nismo GT3 action on and off the track
By:
youtube_com
Duration:
10:16
Leh Keen's Rain Dance - 24 Hours Nürburgring - DRIVER'S EYE
By:
youtube_com
Duration:
02:22
Audi Motorsport - 24h Nürburgring 2013
By:
motorsport_com
Duration:
02:36
Prepared for Durability: The Viper GTS-R Is Built to Endure Le Mans
By:
youtube_com
Duration:
02:12
HOW-TO LAP ZANDVOORT - ONBOARD IN NISSAN GT-R NISMO GT3
By:
youtube_com
Duration:
01:01
CAREFUL! Spin off during Zandvoort practice run - ONBOARD - NISSAN GT-R NISMO GT3
By:
youtube_com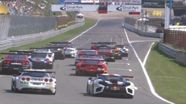 Duration:
05:43
FIA GT Series 2013 - Zandvoort, Netherlands (06-07 July, 2013)
By:
motorsport_com
Duration:
03:12
SPA24h Onboard - Dat Qualifying Lap With Commentary - Nissan GT-R Nismo GT3
By:
youtube_com