It is unknown to many, including car lovers. The circuit of Terramar is the second oldest in Europe after Brooklands, ahead even to the legendary Le Mans, and the first in Spain. In this unique environment that still keeps the greatness it once had, two of the best riders of the moment, Carlos Sainz and Miguel Molina, tested their skills as drivers. The challenge: to overcome the rigors of the old track at the wheel of one of the fastest cars of the time (Audi R8 LSM).
By:
redbull
Source:
youtube.com
Added:

09/09/2012 09:04
Duration: 08:27
Series: ENDURANCE
Related Videos
Duration:
08:45
Spa 24 Hour Highlights Endurance Series
By:
motorsport_com
Duration:
18:37
Schubert Motorsport BMW Z4 GT3 Onboard 2 Runden VLN 4. Lauf 2011 Nürburgring Nordschleife
By:
youtube_com
Duration:
01:47
SLS AMG GT3 "45th ANNIVERSARY"
By:
youtube_com
Duration:
10:51
BMW Z4 GT3 Nürburgring, first lap
By:
youtube_com
Duration:
10:15
HEICO MOTORSPORT Mercedes Benz SLS AMG GT3 Onboard VLN 4. Lauf 2011 Nürburgring Nordschleife
By:
youtube_com
Duration:
01:29
Porsche 911 GT3 Cup: Character refinement
By:
youtube_com
Duration:
02:27
Monza GT-R Onboard - Steve Doherty drives the Nissan GT-R Nismo GT3
By:
youtube_com
Duration:
02:57
Nissan GT-R Nismo GT3 Onboard at Monza, driven by Lucas Ordonez
By:
youtube_com
Duration:
05:27
MONZA HIGHLIGHTS - Nissan GT-R Nismo GT3 action on and off the track
By:
youtube_com
Duration:
10:16
Leh Keen's Rain Dance - 24 Hours Nürburgring - DRIVER'S EYE
By:
youtube_com
Duration:
02:22
Audi Motorsport - 24h Nürburgring 2013
By:
motorsport_com
Duration:
02:36
Prepared for Durability: The Viper GTS-R Is Built to Endure Le Mans
By:
youtube_com
Duration:
02:12
HOW-TO LAP ZANDVOORT - ONBOARD IN NISSAN GT-R NISMO GT3
By:
youtube_com
Duration:
01:01
CAREFUL! Spin off during Zandvoort practice run - ONBOARD - NISSAN GT-R NISMO GT3
By:
youtube_com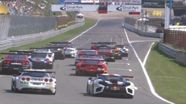 Duration:
05:43
FIA GT Series 2013 - Zandvoort, Netherlands (06-07 July, 2013)
By:
motorsport_com
Duration:
03:12
SPA24h Onboard - Dat Qualifying Lap With Commentary - Nissan GT-R Nismo GT3
By:
youtube_com