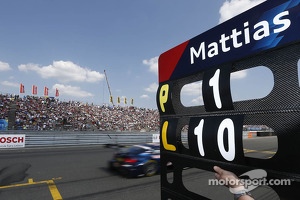 Mattias Ekström, Audi Sport Team Abt Sportsline, Audi A5 DTM
Following Audi Sport Team Abt Sportline's in-due-time announcement of an appeal against the disqualification of Mattias Ekström following the fifth DTM round at the Norisríng, the appeal court of the German Motor Racing Association, DMSB, will adjudicate upon the race result. Making for the abidance by the sporting and technical regulations is the responsibility of DMSB and not of DTM rights holder and promoter ITR e.V.
Up to the appeal-court decision, the altered race result with Mercedes-Benz driver Robert Wickens as race winner and Ekström being disqualified is provisional. After the end of the race, Sweden's Ekström was disqualified by the steward's due to an alleged breach of the parc-fermé rules. A date for the hearing will be fixed as soon as the written explanatory statement will have arrived at DMSB.
DTM