Mitsubishi driver Hiroshi Masuoka has taken his second victory in the Dakar rally. The Japanese raid specialist covered the 19 days (one rest day, one boat crossing) to cover the 17 stage event in 49 hours, eight minutes and 52 seconds. Masuoka...
20/01/2003 02:54
At the end of fifteen stages, Frenchman Stéphane Peterhansel was in the comfortable position of holding an almost 26 minute lead over Hiroshi Masuoka. The battling top two Mitsubishis have dominated the overall cars competition from the opening...
20/01/2003 02:54
Japanese driver Kenjiro Shinozuka and Frenchman co-driver Thierry Delli-Zotti were seriously injured during stage eight of the Dakar Rally today. Shinozuka was driving the No. 201 Nissan in the T2/3 Super Production class. The team Nissan XX car...
11/01/2003 06:36
Trending content
What's hot now
Top!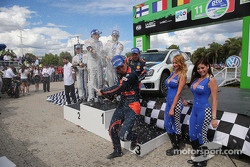 Most!
Trending!