F1
An early Christmas present - Schumacher returns to Formula One Michael Schumacher, the German seven-time world champion has signed a one-year contract with Mercedes Grand Prix at the team's offices in Brackley, England, after a month of talks.
27/12/2009 03:48
Trending content
What's hot now
Top!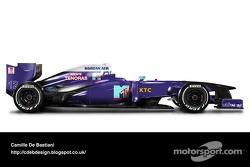 Most!
f1
Commentary - 12/19/2013 Retro F1 liveries. It's a passion thing.
f1
Breaking news - 12/19/2013 Mercedes poaches two engineers from Red Bull
Trending!
f1
Rumors - 12/19/2013 Boullier angry at timing of quit rumours