Daytona Beach, Fla. – Grant Enfinger powered to the front early-on and came home the winner of the Lucas Oil 200 presented by MAVTV American Real at the Daytona International Speedway. The race opened the season for the ARCA Racing Series presented by Menards. The winner drove the Motor Honey-Casite-Advance Auto Parts Ford, giving Ford its first victory in this event since ...
TOLEDO OH (12-4-03) Egnatius "Iggy" Katona, the winningest driver in ARCA RE/MAX Series history, died Thursday, December 4 in Daytona Beach, Florida. He was 87. Katona, who earned 79 career series wins, also held the all-time...
06/12/2003 05:44
Joe Gibbs Racing has signed United States Auto Club (USAC) racer J.J. Yeley to a multi-year contract beginning in 2004. Gibbs, who has won two Winston Cup championships with Bobby Labonte and Tony Stewart since its inception in 1992, has long been...
23/11/2003 12:40
Brooklyn, Mich. (June 12, 2003) -- The rain on this wet Thursday at Michigan International Speedway has all the ARCA cars under tarps and all the drivers are huddled in their transporters staying warm and dry. Even the press stayed away on a cold...
13/06/2003 09:20
Imagine one's surprise when they received a special invitation to drive a specially prepared stockcar around a superspeedway. Motorsport.com was invited to Michigan International Speedway to partake in a special Media Day. . Photo by...
23/05/2003 12:40
Mooresville, North Carolina (December 17, 2002) - Braun Racing announced today that it will field an entry in the 2003 NASCAR BGN Series with Rookie driver Chad Blount. Last week the team announced that they would field an entry for Steadman...
19/12/2002 12:40
Top!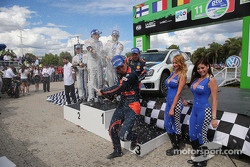 Most!
Trending!