F1
The estimated 55000 crowd came to magnificent new Wembley stadium to watch the 2007 Race of champions, The attendance was some what down on the expected 80000 and the large bowl clearly had a lot of empty seats but still the tension grew as the ...
18/12/2007 04:07
DTM
The Race of Champions and the Champion of Champions title in particular is the title all the drivers want to win. The charity event is by invitation only and it attracts the top names in motorsport. All the drivers in the event do not get paid a...
18/12/2007 02:13
GENERAL
Sixteen of the best road/oval racing and rally drivers from across the world will be heading to Wembley Stadium in the United Kingdom. They come for an end-of-season gladiatorial style motorsport event on the 16th of December...
05/12/2007 05:55
Trending content
What's hot now
Top!
Most!
f1
Short news - 03/17/2014 Aussie GP furious with F1's purring engines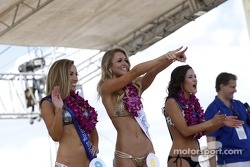 Trending!
f1
Short news - 03/17/2014 Family accepts 'long wait' for Schu awakening
f1
Short news - 03/17/2014 Red Bull confident of winning fuel flow appeal